Description
YOCAN LOADED VAPORIZER
New, Exciting and Efficient are just a few words used to describe the new Yocan Loaded Vaporizer.   Included with the Yocan Loaded are two quartz atomizers: a quad coil option and a dual coil option. Sleek in overall appearance and design, this compact vape pen for sale packs a punch without taking up too much room in your pocket or purse.
YoCan Loaded MAGNETIC CHAMBER DOOR
To make switching out atomizers easier, Yocan vaporizers gave the Loaded a chamber door that opens out and is magnetically connected to the atomizer. When you want to switch up your atomizer simply pull the door open, take the coil out, place the new one in the chamber, and close the door. Also, instead of having to screw and unscrew atomizers, you are now able to slide a new one in without running the risk of dropping or damaging one.  Yocan makes multiple vapes for sale including the Yocan trio vape and the Yocan loaded vaporizer as well as the Uni Pro Vape
YoCan Loaded Vaporizer PREMIUM QUARTZ ATOMIZERS
Conveniently, there are two coil options for users of the Yocan Loaded, both of which come with the vaporizer. The dual quartz coil provides a clean flavor and smooth vapor that stays true to your concentrate's profile. Also, if you want larger clouds the quad quartz coil will be your go-to. By doubling up the number of coils in the atomizer, Yocan ensured the quad quartz coil will produce thick clouds of vapor and reach temperature quickly. Because of the ability to quickly switch between atomizers, the Yocan Loaded is fantastic for sharing with large groups of friends that might want to try this amazing pocket wax pen.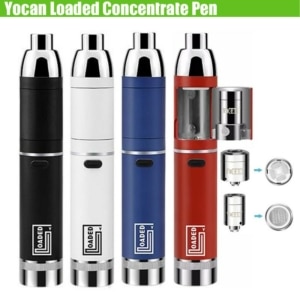 An easy to use wax vape pen
Loaded's mouthpiece is easily extendable which helps prevent you from being too close to the heating element. Also, a quick counterclockwise turn brings the mouthpiece out further creating a longer vapor path to help cool down the draws.  This is key for enjoying a cool and smooth hit of vapor.
Loaded is designed to last for session after session without the need of a charge.  Most Concentrate users who find themselves needing to charge their vapes while out will appreciate the Yocan Loaded's long lasting 1400MAH Vape Battery. With a battery this size, users can expect a day's worth of vaping off of one charge. Lastly, the Yocan Loaded features a pass-through technology. Interestingly, you can still use it while charging and is charged upright to make it easier to vape while it is plugged in so you are never in a jam because you forgot to charge your vape!
Features of the YoCan Loaded Vaporizer:
Built-In 1400mAh Battery
Unique Coil Chamber
Convenient USB Charging
Built-In Wax Compartment
Comfortable and Extendable Mouthpiece
Comes with not one, but two coils
WHAT'S IN THE BOX with your new YoCan Vape?
1x Yocan Loaded Wax Vape Pen
1x Quad Quartz Coil Atomizer
1x Dual Quartz Coil Atomizer
1x Micro-USB Charger
1x Concentrate Tool
1x User Manual
Other Wulf Vapes for sale / Wulf Mods Vaporizers for sale…
More than just the Yocan Loaded for sale
Cheap Vaporizer is a family-owned and operated business that is focused on providing vaping enthusiasts with premium Cheap Vape options. We are proud to sell the best vaporizers on the market today at an affordable price.  We offer much more than just the Yocan loaded for sale.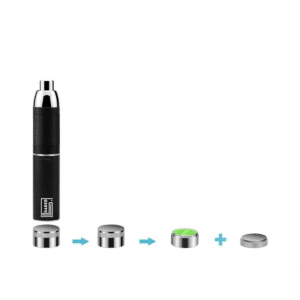 Buy with confidence that your Yocan Loaded vaporizer will arrive by priority shipping via UPS or FedEx in a well-packaged shipment. We ship year-round to all states in the USA.  Shop with confidence that your product will ship fast, and be packaged well from the top vaporizer company in the entire country.
Cheap Vapes for sale online
Considered one of our top cheap vape pens for sale, we definitely recommend checking this vape out!