Description
Yocan Trio Vaporizer
Yocan Trio vape has a powerful variable voltage battery is equipped with three temperatures to allow you to fully explore your material. Secondly, a 10-second preheat function is available to aid in discrete sessions. The e-juice and liquid concentrate refillable pods feature a ceramic coil.  Lastly, the solid concentrate pod is outfitted with a quartz dual coil for a smooth vapor experience.  Yocan Tro Vape is a multi-use vape so it has all of your bases covered!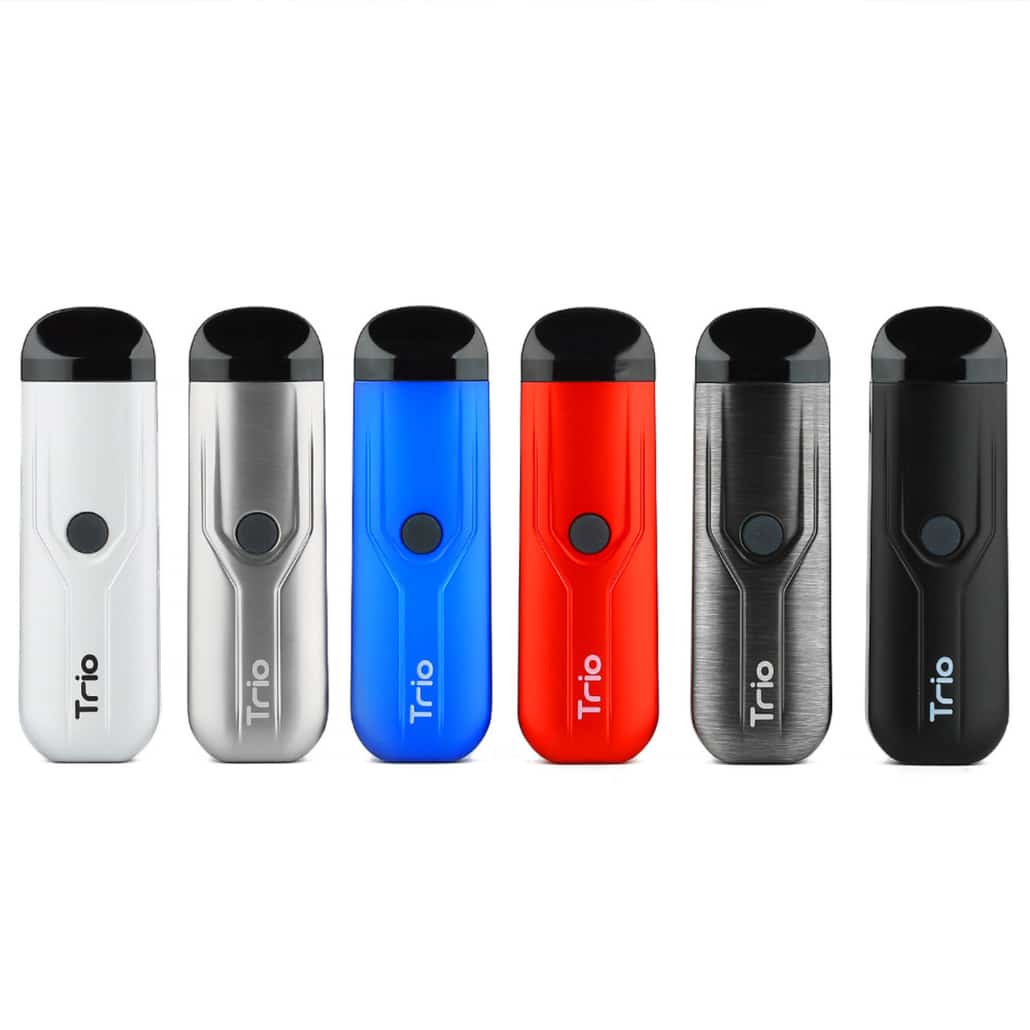 Yocan Trio for sale – VARIABLE VOLTAGE BATTERY
Yocan Trio vaporizer features a variable voltage battery that has three temperatures.  Using settings of low (white light), medium (blue light), and high (green light). Yocan Trio Vape Users who prefer flavor first will enjoy the low setting. Using the middle setting provides the perfect balance for both flavor-centric users and cloud chasers.  Lastly, those who want to enjoy thick clouds of vapor from the Yocan Trio Vaporizer should use the high setting.  One of the more popular multi-use vaporizers for sale online, the trio is definitely worth taking a look at.
With a super fast heat up time, the Trio has a 10-second preheat function warms your coils before the first draw of your session. Needless to say, this is an awesome feature for users who need to keep discretion in mind while vaping.  Considered one of our top cheap vape pens for sale, we definitely recommend checking the Yocan Trio vape out!
Switching out the atomizer is a breeze!
Also, to make switching out atomizers on the Yocan Trio Vape easier, Yocan vape gave the Loaded a chamber door that opens out and is magnetically connected to the atomizer. Because when you want to switch up your atomizer simply pull the door open and take the coil out. Next, simply place the new one in the chamber, and close the door. Instead of having to screw and unscrew atomizers, you are now able to slide a new one in without running the risk of dropping or damaging one.  Yocan makes multiple vapes for sale including the Yocan trio vape and the Yocan loaded vaporizer as well as the Uni Pro Vape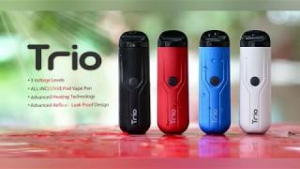 Yocan Trio Vape and it's REFILLABLE POD SYSTEM
These pods are refillable, making parceling out and saving material easy. Each pod has an advanced airflow system that creates low draw resistance, and a sealed bottom to prevent any leakage.
Yocan equipped the Trio's e-juice and liquid concentrate pods with a ceramic coil to help your flavors flourish. The inert nature of ceramic keeps unwanted tastes out of your sessions for a pure flavor profile.
Yocan Trio's solid concentrate pod extracts vapor with a quartz dual coil. Quartz's properties preserve your concentrate's flavor and get to temperature faster than other coil materials. Your solid concentrate will be thoroughly vaporized, leaving nothing behind.
WHAT'S IN THE Yocan Trio BOX
Yocan Trio Battery
Liquid Concentrate Pod
E-Juice Pod
Solid Concentrate Pod
USB Cable
User Manual
Refillable Pod System
Pocket-Sized Design
Advanced Airflow
Ceramic Coil
Quartz Dual Coil
Leakproof
Variable Voltage Battery
10-Second Preheat Function
About our Cheap Vaporizer Company
Cheap Vaporizer is a family-owned and operated online vape shop that is focused on providing vaping enthusiasts with premium vaporizers for sale. We are proud to sell the best vaporizers for sale online on the market today at an affordable price.
Buy your Yocan Trio Vape with confidence that your vaporizer will arrive by priority shipping via UPS or FedEx in a well-packaged shipment. We ship year-round to all states in the USA.  Shop with confidence that your product will ship fast, and be packaged well from the top vaporizer company in the entire country.