Description
 Limited Edition Amber Rose by Kandypens
KandyPens Amber Rose vape is one of the most efficient and powerful vape pens available today. The all-quartz crystal coil-less chamber heats at a lower temperature to produce maximum flavor extraction without combustion, while the dual quartz rod atomizer with a quartz crystal chamber creates big, billowing clouds of thick vapor. The refillable glass tank has a capacity of .5 mL and delivers smooth, flavorful, and delicious hits.  Considered one of our top cheap vape pens for sale, we definitely recommend checking this vape out!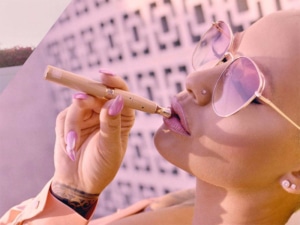 Vapor quality and flavor are magnified by Sesh Mode. Simply double-tap the control button and Sesh Mode will be activated, providing 10 seconds of continuous, smooth delicious vapor. It comes packaged in a premium collector's gift box. The Amber Rose is housed in a leather case adorned with a geometric rose design and gold trim.  This vape pen for sale is sleek that is for sure!  Of all of the liquid and oil vape pens for sale, we recommend the KandyPen Vape.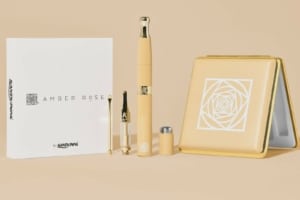 Key Vape Pen FEATURES
Sesh Mode
Refillable .5 mL Glass Tank
All-Quartz Crystal Coil-less Atomizer
Dual Quartz Atomizer
4 Preset Temperature Settings
Nude & Glitter Lacquer With Gold Trim
Upgraded Mouthpiece With Air Carb
510-Threaded Battery
Handmade
Check out all the KandyPens Vaporizers for sale here at Cheap Vape! We offer a full selection of portable vapes including oil vapes, pen vaporizer products, pocket vaporizers and more.
About our Cheap Vaporizer Company
Cheap Vaporizer is a family-owned and operated business that is focused on providing vaping enthusiasts with premium vaporizers. We are proud to sell the best vaporizers on the market today at an affordable price.
Buy with confidence that your vaporizer will arrive by priority shipping via UPS or FedEx in a well-packaged shipment. We ship year-round to all states in the USA.