Description
YOCAN TORCH E-nail
THIS DEVICE WAS INTENDED FOR AROMATHERAPY USE ONLY.
The Yocan Torch Enail Vape is a revamped and refreshed version of an old favorite, the Yocan Torch eNail. This updated version receives more than just a face-lift and offers the best features the brand has to offer. This portable dome-less eNail sport features both old and new to deliver a unique experience when you dab your select wax concentrates with it. The old and familiar features include the same unique shape from which the model has been known for. You'll also find a metal tube and a glass tube which the older version also offered.
Yocan Torch E nail Compatibility
On that note, the Yocan Torch Portable Enail still offers compatibility with a wide range of glass bubblers and water attachments allowing you to take advantage of moisture-conditioned vapors while dabbing with this portable eNail. The new features include the addition of Yocan's latest heating element, the quartz tri coils that are available with the Yocan Regen Vaporizer, and the quartz dual coil atomizers used in the Yocan Evolve Plus.
The Yocan Torch E-nail 2020 improves on the platform paved by its predecessor and allows for a better vaping experience altogether. It's a great device any wax concentrate consumer should have. It's a revolutionary device that's proved to be way ahead of its time as many vaporizer manufacturers have started making similar devices. Dab with the original portable wax vaporizer eNail, dab with the Yocan Torch E nail.  A portable electric dab rig, this is a small but amazing little cheap dab rig for sale.
Yocan Torch Electric Dab Rig – Controlling airflow
The Yocan Torch 2020 offers impeccable airflow control through the use of the metal tube that can be attached on top of the heating element. The folks at Yocan know just how much of an impact airflow has in the production of vapors. After all, these guys studied vaporization to develop the best vaporizers on the market. Although it may seem insignificant, airflow contributes to the quality of your vapors. The less air you let in, the warmer the vapor production is but it also means that you get more flavorful and potent rips as you're basically inhaling the extracted vapor from your wax concentrates in its purest form. The vapors when airflow is restricted will also be thinner and less visible.
Density of Vapor with the Yocan Enail for sale
On the other hand, allowing more air into the atomizer allows you to increase the vapor density and allow the vapor to cool down as the cold outside air will get mixed with the warm vapors produced by the heating element. On that note, because you're letting more outside air in, the vapor will have a tendency of getting watered-down with a reduction in potency and flavor retention.
Using the inclusive metal tube, you can adjust the airflow of the Yocan Torch 2020 allowing you to customize and personalize your sessions. The airflow button is located at the top of the metal tube and can be pressed down to let in air and will block the air when you let the button go. Simple, straightforward, yet effective.
Yocan Torch Vaporizer – FLAVOR RETENTION
To improve flavor retention, the Yocan Torch 2020 uses a glass tube to cap the atomizer. Unlike other materials, glass is inert. This means it does not have any immediate chemical reaction to heat especially when you have a cover like the glass tube sitting close to the heating element. This keeps the vapor pure and clean and promotes better flavor retention compared to cheaper materials like weak metal or plastic. That's the reason why many vaporizers cause the actual vapor to taste like metal or plastic which taints the vapor. Because glass does not rub off on the vapors even when exposed to extreme heat, it will not leave a bad taste nor unwanted smell on the vapor. Whatever flavor your wax concentrates have to offer is retained improving your overall vaping experience.  Using the proper wax vape is key to enjoying your product.
For connoisseurs and medicating patients, the ability to inhale vapors that are clean and are true to its taste is important. It's no longer just the flavor but the overall quality of the vapors that are preserved by using the glass tube.
Top of the line heating elements
The Yocan Torch electric dab rib delivers superior quality vapors by using heating elements that have made a name for themselves one way or another. First, this portable eNail comes with the brand's quartz dual coil atomizers that allow for the fast and effective vaporization of your select wax concentrates. Within the best electric dab rig is a quartz dual coil used in the Yocan Torch 2020 is the same quartz dual coil used in the Yocan Evolve Plus Vaporizer. On that note, you can expect to get the same results with this eNail, even better because you're using it in conjunction with a glass attachment that filters and cools down the vapor. The latest iteration of the Yocan Torch also comes with the atomizer found in the Yocan Regen Vaporizer. The quartz tri coils offer even faster and effective vaporization taking the vapor production of this portable eNail to a whole new level.
Replacing the coil on the Yocan Torch E-nail
These coils are 510-threaded and can easily be removed and replaced even by beginners. That said, the replacement of the coils isn't going to be a problem regardless of your experience. They are pretty self-explanatory and makes personalization and customization easier. That means you can use the quartz dual coils if you want vapors that lean towards the flavor and gives off a subtle body buzz and use the quartz tri coils if you want more potent rips.
Yocan Torch Enail for sale
The Yocan Torch 2020 also comes with a water pipe adapter that can be switched from male to female. This means that this face-lifted portable eNail from Yocan is compatible with a wide range of bongs, water pipes, and other glassware used in consuming wax concentrates. The adapter can be used to connect this dabber to glass attachments with 14mm to 18mm glass joints. It's a universal adapter that has three levels and provides a great fit to glass attachments that it prevents air from leaking through the joints for superior vapor production.
So, what are you waiting for? Get the latest version and enjoy the difference of dabbing with the Torch E nail today.
What is in the Yocan Dab Rig BOX:
1 x Yocan Torch Electric Dab Rig
1 x Quartz Dual Coil
1 x Quartz Tri Coil
1 x Dab Tool
1 x USB Charging Cable
1 x Glass Tube
1 x Metal Tube
1 x User Manual
ABOUT YOCAN TORCH E-NAIL
This device was intended for aromatherapy use only.
The Yocan Torch Portable eNail Vaporizer is a revolutionary marvel especially for wax concentrate consumers, The Yocan Torch eNail allows simple and easy wax concentrate consumption without the use of a butane lighter that may otherwise be hazardous to the inexperienced. The Yocan Torch can be connected to any bong, dabber, rig, or bubbler. The Torch eNail is the perfect tool for those who want a torch-less way of heating their concentrates with their favorite water filtration device. Every dabbing enthusiast will absolutely love our Torch. It was designed with a quartz dual coil to ensure your smoothest vapor. Its airflow button also gives you the option to enjoy a large amount of air. Unlike a traditional torch, this E-Nail can also be used with either an airflow tube or a glass tube, making it definitely flexible.
Yocan Torch is an E-Nail for sale that was designed to make your dabbing sessions so much easier. Since it is battery operated, you will no longer need to manually light your dab rig. By simply attaching this accessory to your device, you can instantly enjoy an amazing dabbing session.
YOCAN TORCH ENAIL COMPONENTS
The Yocan Torch eNail, like most Yocan Vaporizer products, is made up of 3 main parts; the battery, the body, and the heating element. The Yocan Torch eNail seems to be missing a mouthpiece since it requires to be connected to a separate unit. It sports a weird looking body that looks like two poles connected to a single pillar.
The battery of the Yocan Torch Portable eNail has a capacity of 1100mAh that can easily vaporize concentrates and will last you more than the average casual vaping sessions. Don't worry because the Yocan Torch battery can easily be charged through a micro USB charging cable if ever you run into demanding group sessions that may result in constant use. Charging only takes an hour or so which gives you and your crew enough time to rest and rehydrate after being put down by that big dab you just took. Though this portable eNail battery lacks temperature display, it still lets you know what it's up to through the top light that glows when it's turned on. The battery is the longer of the poles. Like other Yocan products, the battery can be turned on with a 5-click action and can also be turned off by performing the same steps.
The Yocan Torch eNail heating material is the shorter of the two and has a cap and a splash guard to prevent any spit backs. The heating components feature several setups and vaping styles making the Yocan Torch eNail a uniquely flexible dabbing tool. The Yocan Torch Portable eNail can be used in conjunction with the Torch metal tube that features an airflow adjustment tool so you can easily alter the air intake during your sessions, the airflow attachment tool may seem small and insignificant though it greatly affects how you dab your concentrates as the amount of air the Yocan Torch takes determines the overall quality of the vapor output. A draw with a tighter airflow will most likely be more flavorful while yielding thin wisps while a looser airflow will provide your draws with more volume as well as increased density and visibility with decent flavor retention. In general, loose draws will tend to be cooler since more air travels through the chambers though it decreases the flavor factor of your vapors by giving the heating element less time to absorb the extracts. Conversely, a tight draw will tend to be more flavorful though it may sometimes yield warm vapors since air travels slower giving the heating element enough time to ramp up.
UNCOMPROMISED DURABILITY
The Yocan Torch eNail is made out of high-quality metal making it tougher and robust even when compared to other e-nails on the market today. It's the ideal tool for those long and demanding sessions and for occasions when you and your friends just have to grind it out.
The interior of the Yocan Torch eNail is made from medical-grade stainless steel. This means that your extracts will remain clean and pure inside the chamber of the Yocan Torch eNail and nothing can contaminate the concentrates you put in the Yocan Torch. The purity of your extracts is important when dabbing since the purer the materials the cleaner your highs are. Since the chamber itself does not chemically react to heat, the active ingredients in the extracts are conserved and are maintained. This means that no material goes to waste and that you get to maximize whatever benefit your materials have to offer to allow you to get the best value for your money both in vaporizers and in concentrates.
A GAME CHANGER
Unlike the average e-nail, this portable eNail connects to almost any dab rig or water pipe that has 14mm or 18mm diameter downstems and can accommodate both male and female downstems. Regardless of how you connect it, this portable eNail snugly fits your rig making for a secure way of dabbing without using a torch.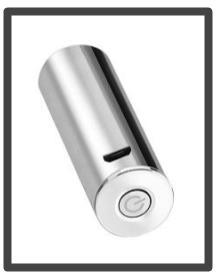 The Yocan Torch eNail also charges in about 1 to 2 hours and a single charge will last those who go solo, at the very least, 2 days' worth of dabbing while those who partake in group sessions will experience shorter battery life. The Yocan Torch eNail leans towards the bulkier side though the seemingly large body provides the Yocan Torch the power and performance most users look for in a torch-less dabbing device.
You can never go wrong with the Yocan Torch, grab yours now, and experience the difference.
YOCAN TORCH ENAIL FAQS
Can I use Yocan Torch for dry herb?
Yocan Torch E-Nail can be used for dry herb with a pancake dual coil.
How many puffs can I take with Yocan Torch?
Yocan Torch E-Nail can support up to 45 puffs with its battery full charged.
What is the preset temperature of Yocan Torch?
Yocan Torch E-Nail's temperature ranges from 482F-536F when in use.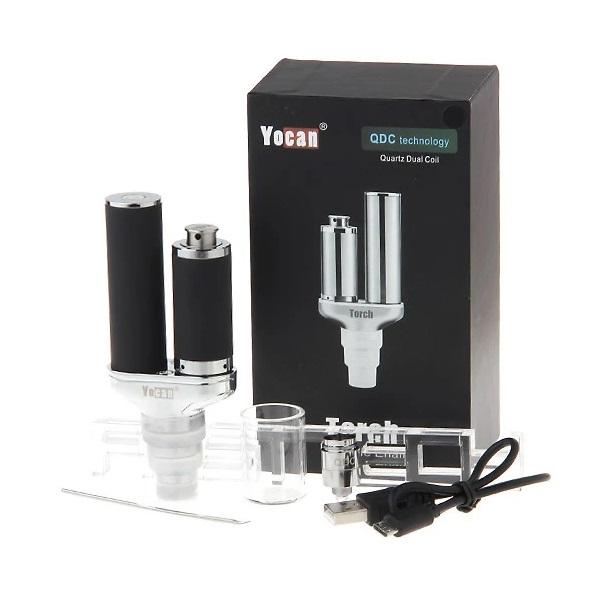 WHAT'S IN THE BOX
1 x Yocan Torch E-Nail
1 x Quartz Dual Coil
1 x Wax Tool
1 x USB Cable
1 x Glass Tube
1 x User Manual
Other Yocan Vaporizer products
About our Cheap Vaporizer Company.
Cheap Vaporizer is a family-owned and operated business that is focused on providing vaping enthusiasts with premium vaporizers. We are proud to sell the best vaporizers on the market today at an affordable price.
Buy with confidence that your vaporizer for sale will arrive by priority shipping via UPS or FedEx in a well-packaged shipment. We ship year-round to all states in the USA.  Shop with confidence that your product will ship fast, and be packaged well from the top vaporizer company in the entire country.