Description
ARIZER AIR 2 VAPORIZER

Offering an hour of use per charge, the ability to use while charging, and the option to have spare batteries fully charged, the Arizer Air 2 vaporizer is perfect for use at home and on the go.  Be sure to check out our full variety of dry herb vaporizer products.  All of our dry herb vape inventory comes with the same warranty and ultra-quick UPS shipping.  One of the nicer flower vapes for sale, the Air 2 will not dissappoint.
Arizer Air 2 Vaporizer for Sale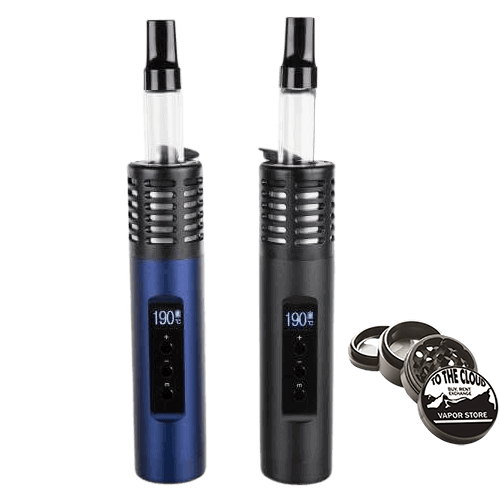 Arizer Air II Vape is COMPACT & REFINED
Sleek and compact, Arizer Air easily fits in your pocket. A solid shell protects from wear and tear and multiple vents keep the Air cool to the touch. A solid foundation surrounds the ceramic heating element adding an extra layer of protection.
Arizer Air 2 Vape

Arizer Air 2 Vaporizer Preset Temperatures
The Air heats up in under 1-2 minutes and utilizes 5 different levels of preset temperatures.
Level 1 (Blue) – 180°C / 356°F
Level 2 (White) – 190°C / 374°F
Level 3 (Green) – 200°C / 392°F
Level 4 (Orange) – 205°C / 401°F
Level 5 (Red) – 210°C / 410°

WHAT'S IN THE BOX
Arizer Air 2
2x Glass Mouthpiece w/ Plastic Tip
Glass Potpourri Dish with Potpourri Sample
Clear Protective Silicone Skin
Stainless Steel Stirring Tool
Battery Charger
User Manual
Check out all the Arizer Vaporizers for sale here at Cheap Vape! We offer a full selection of portable vapes including oil vapes, pen vaporizer products, pocket vaporizers and more.
About our Cheap Vaporizer Company
Cheap Vaporizer is a family-owned and operated business that is focused on providing vaping enthusiasts with premium vaporizers. We are proud to sell the best vaporizers on the market today at an affordable price.
Buy with confidence that your vaporizer will arrive by priority shipping via UPS or FedEx in a well-packaged shipment. We ship year-round to all states in the USA.