Description
Exxus Snap VV Cartridge Vaporizer
Exxus Snap VV Cartridge Vaporizer has quickly become one of the most popular devices made today. They combine superior quality and performance with value. Based in California, Exxus Vape has gained a strong following from vapers because the company listens to feedback and works to create the devices vapers want. There is a special focus at Exxus Vape on devices for dry herbs, essential oils, and oils. From Exxus Vape batteries to Exxus Vape tanks, every product is given the highest attention.  We offer a huge variety of oil cartridge vaporizer for sale.
At just 3" tall by 1" wide, the Exxus Snap VV Variable Voltage Cartridge Vaporizer is one of the smallest devices of its kind. By using a recessed atomizer it allows for a slimmer device. The atomizer sits down inside the chassis of the mod and is held in place by a strong magnetic connection. This makes changing out the atomizer quick and easy. This helps to protect the atomizer of the Exxus snap VV Vaporizer from damage.
Vapers have been wanting a highly portable Exxus Snap VV Cartridge vaporizer for some time now.  Enter the Exxus Snap VV. With this device, you can choose from one of four voltage levels. Push the power button three times in quick succession to adjust the voltage, by doing this, it allows you to fine-tune both the vapor volume and the flavor you are getting on each draw.
What's inside the box?
Included in this package are the Exxus Snap VV, an atomizer, a long magnetic connector, a short magnetic connector, a Micro USB charging cable, and a user manual. Those who are new to oil vaporizers will find that this is a very user-friendly model. The simple one-button operation is great for beginners. It takes only a few minutes to begin each session.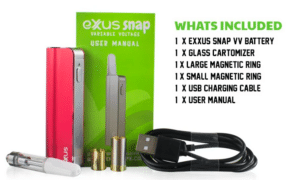 Check out all the Exxus Vaporizers for sale here at Cheap Vape! We offer a full selection of portable vapes including oil vapes, pen vaporizer products, pocket vaporizers and more.

About our Cheap Vaporizer Company

Cheap Vaporizer is a family-owned and operated business that is focused on providing vaping enthusiasts with premium vaporizers. We are proud to sell the best vaporizers on the market today at an affordable price.

Buy with confidence that your vaporizer will arrive by priority shipping via UPS or FedEx in a well-packaged shipment. We ship year-round to all states in the USA.