Description
ARIZER EXTREME Q VAPORIZER

MULTI-FUNCTIONAL
Choose your vapor experience! The Arizer Extreme Q Vaporizer is able to deliver vapor in a multitude of ways.  One of a few Arizer Vaporizer options, the Extreme Q has withstood the test of time.
Direct Draw via Whip: Use your lungs to draw in and create vapor through the included 3′ Long Whip.
Forced Air Assisted Whip: Give your lungs a break! Let the EQ's fan create and deliver vapor for you through the included 3′ Long Whip.
Forced Air Balloon Delivery: Attach the Balloon Assembly and watch as the Extreme Q's fan fills your balloon with vapor. Firstly, the balloon fills up. After the balloon is full, detach it, inhale, and enjoy!  Be sure to check out our full variety of dry herb vaporizer products.  All of our dry herb vape inventory comes with the same warranty and ultra-quick UPS shipping.
Arizer Extreme Q Vaporizer for Sale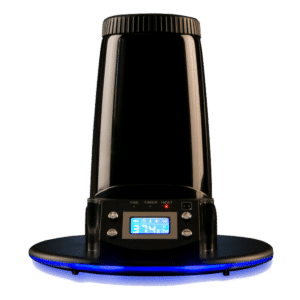 FULL FEATUREs of the Arizer Extreme Vaporizer
All functions can be performed via the included remote control, or on the unit itself through the digital display. It's fully adjustable temperature can be set in one-degree increments, from 122 °F to 500 °F (50 °C – 260 °C). The user-set automatic shut-off feature allows you to set and forget; your Extreme Q will automatically shut down at a user-defined time.
FLAVORFUL CLEAN VAPOR from the Arizer Extreme Q Vape for sale
The Extreme Q offers a powerful yet energy-efficient ceramic heating element and glass-on-glass components for flavorful, clean vapor. Glass and ceramic are easy-to-clean and make for a great-tasting and enjoyable vapor experience.
Arizer Vaporizer

WHAT'S IN THE Extreme Q Vaporizer BOX
Arizer Extreme Q Remote Control
2x Glass Cyclone Bowls with Flat Screens
Pre-Attached Long Whip for Direct Draw
3′ Whip Tubing
Glass Whip Mouthpiece
Glass Elbow Adapter with Dome Screen
Pre-Attached Mini Whip for Balloon
2x Glass Balloon Mouthpieces
3″ Whip Tubing
Glass Elbow Adapter with Dome Screen
Balloon Assembly (One Pre-Assembled)
2x Balloons
Glass Stir Tool
Screen Pack
Flat Screen
Dome Screen
2x O-Rings
Glass Potpourri Dish with Potpourri Sample
110/220V Power Supply
User Manual
Ceramic Heating Element
Multi-Functional Balloon & Whip Delivery
Remote Control
360° Swivel Action Whip
Bright Digital Display
Glass-on-Glass Components With Dual Screen System
3 Fan Speeds
User-Set Automatic Shutoff Timer
Check out all the Arizer Vaporizers for sale here at Cheap Vape! We offer a full selection of portable vapes including oil vapes, pen vaporizer products, pocket vaporizers and more.
Check out all of the best desktop vaporizer besides the Extreme Q vaporizer:
About our Cheap Vaporizers for sale online
Cheap Vaporizer is a family-owned and operated business that is focused on providing vaping enthusiasts with premium vaporizers. We are proud to sell the best vaporizers on the market today at an affordable price.  Find the best priced vapes for sale online anywhere from any vape shop online.
Buy with confidence that your vaporizer will arrive by priority shipping via UPS or FedEx in a well-packaged shipment. We ship year-round to all states in the USA.