Description
G Pen Elite Vaporizer
The G Pen Elite Vaporizer is a Portable Dry Herb Vaporizer and an efficient larger style version of a vape pen for people who enjoy dry herbs. If you regularly vape ground materials, this unit may be optimal for your lifestyle and needs. It can work well for people who have busy and fast-paced existences. That's because it can be all set for use in just seven seconds. The G Pen Elite Portable Dry Herb Vaporizer is the definition of user-friendly. It has a single button that's designated for temperature setting purposes. The unit's LED display can be beneficial for users who want information regarding battery life and temperature.   G pen Dry herb vaporizer options include both the Dash and the Elite models.  Other dry herb vaporizers for sale include the Crafty vaporizer.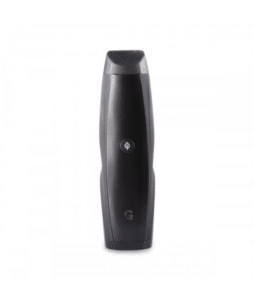 G Pen Elite Vape
This vaporizer for sale is truly one-of-a-kind. It's equipped with the biggest 100 percent ceramic chamber out there. It has a modern 360 ceramic heating element that can offer consistent and speedy convection vaporization. If you want to vaporize your ground materials as efficiently and thoroughly as possible, the G Pen Elite Portable Dry Herb Vape can come through for you.
G Pen Elite portable Vaporizer
People who use this portable vaporizer are in full control of their preferred temperatures. They can opt for any temperatures that are in the range of 200 to 428 degrees Fahrenheit. If you want to enjoy all different varieties of flavors, this unit can give you the opportunity to test out reduced temperatures. The unit runs on a strong Li-ion battery. It's a convenient device for people who care about lengthy use. That's because it's great for battery longevity.
G Pen Dry herb Vape
If you're someone who loves vaping while you're not home, this portable vape offering from G Pen Vaporizers could put a massive grin on your face. Purchases of this contemporary unit come with single cleaning brushes, USB (Universal Serial Bus) charging cables, pen tools and grinder cards.
Dry herb vaporizer by G Pen
The G Pen Elite offers craftsmanship that's world-class. It's made using tough and reliable food grade materials. Its mouthpiece is cozy, too. It's made of thick silicone rubber. The mouthpiece stays pleasantly cool even during lengthy periods of use. If you charge this dry vaporizer fully, you'll be able to use it for anywhere between 75 and 90 minutes. People can utilize this unit without a problem during the charging process, too. The G Pen Elite Portable Dry Vaporizer has an automatic timer that shuts it down after five minutes have gone by.
G Pen Vape for sale
People who admire vapor that tastes fantastic frequently gravitate to the G Pen Elite Portable Dry Vaporizer from Grenco Science. People who admire dependable and consistent performance often do the same. If you're interested in vaporization sessions that are like no other, it may be time for you to pay full attention to this Grenco Science device.
Cheap Vaporizer is one of the top online vape shops in the world. Vaporization lovers turn to us time and time again for a number of reasons. They appreciate our extensive selection of vaporization products. They love our insight and knowledge. They can't resist our A+ customer service, either. If you want to learn about the G Pen Elite Portable Dry Vaporizer, our team members can help you do so. We can also give you information regarding suitable and durable OEM (Original Equipment Manufacturer) pieces of all kinds. Reach out to us now for further information.