Description
Yocan Dive Mini Vaporizer Pen
THIS DEVICE WAS INTENDED FOR AROMATHERAPY USE ONLY.
The latest in wax pen technology, the Yocan Dive Mini is a befitting successor to the larger and bulkier Yocan Dive. Both devices share the same DNA and therefore both function as a nectar collector. However, what differentiates the Yocan Dive Mini from its big brother apart from its size is its dual functionality. The Yocan Dive Mini functions both as a nectar collector allowing you to dab straight right out of your wax container and as a dab pen.
Yocan Dive Mini Vape is super easy to use…
Like many of our dab pens here at Yocan, the Dive Mini is outfitted with a single power button for ease of use and three preset temperature settings for temperature flexibility. These temperature profiles allow you to enjoy various results from your select wax concentrates with effects that range from flavorful to potent. Out of the box, the Yocan Dive Mini comes with two heating elements, a touch-tip coil for when you will use the Yocan Dive Mini wax vape as a nectar collector and another for when you will use it dab pen style.
Battery life and the Yocan Dive Wax Pen
The Yocan Dive Mini is outfitted with a 400mAh battery that offers more than enough power for several sessions in between charges. Should you need to recharge the Yocan Dive Mini, you can do so using its inclusive USB charger that you can connect to your computer or to a wall adapter. Finally, the vapors are delivered either via the standard steel mouthpiece or via the inclusive glass attachment that faithfully preserves the overall quality of the material you're consuming.
The Yocan Dive Mini is Yocan Vaporizers latest entry to the dab pen platform and is the perfect companion for consumers who are always on-the-go. Make the Dive Mini a part of your arsenal today!
Adjust your Yocan Wax Vape on the go.
One of the best things about Yocan dab pens is their ability to provide additional levels of customization and personalization that often comes via its preset temperature settings. It not only allows consumers to enjoy various results from their favorite wax concentrates but it does so without requiring a steep learning curve making dabbing easier for beginners.
There's literally no need to bother yourself about the specifics of temperature when it comes to heating your extracts, all you need to remember is that low-temperature settings create smooth and flavorful vapors with minimal body buzz and high-temperature profiles often create potent rips that carry most of the psychoactive ingredients from your extracts. That said, the middle-temperature settings offer a more balanced vapor production in terms of flavor, potency, and vapor density.
Customizing your Yocan Dive Mini Vape Dab Pen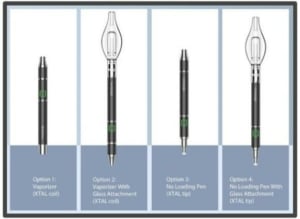 New to the market and quickly selling out, the Dive Mini is a great small pocket sized wax vape.  On top of that, the Yocan Dive Mini also offers further personalization through the four modes of use it offers. Each mode offers its own advantages allowing you to select which mode of consumption is best suited for your needs. First is the standard dab pen functionality using the Yocan Dive Mini's XTAL coil. Attached to the battery, you can load the dive's coil with your favorite wax concentrates and draw from the Yocan Dive Mini's steel mouthpiece.
Next, you can use the same coil but instead just flip the device upside down and using the glass attachment for better draws that are smoother and cooler because the vapor gets to travel a longer vapor path which effectively cools the vapor and diffuses some of the natural irritants in it.
Using the Yocan Wax pen as a nectar collector
Alternatively, you can use the XTAL tip and use the Yocan Dive Mini as a nectar collector and draw vapors from the steel mouthpiece. Lastly, using the same coil and the same setup, you can exchange the steel mouthpiece with the glass attachment for better cooling and better flavor retention.
These levels of customization are something you wouldn't see on other devices at the same price point which makes the Yocan Dive Mini a unique dab pen giving you four modes for the price of one.
Yocan Dive Mini dab pen size
Standing around a little over 8 inches tall, less than half an inch wide for the battery and a little way over an inch wide for the glass attachment, the Yocan Dive Mini is something you can take with you almost anywhere you go. One of its strongest suits is its sleek and slender body that can be hidden easily in your pocket and even in the palm of your hands. This means that you can carry the Yocan
Dive Mini with you and not worry about the excess weight and bulk you would otherwise have to be bothered with when using other dab pens. The ability to hide it and pull it out of your pocket whenever you need to take a drag is imperative to various types of consumers especially those who use their wax concentrates as medication.
If you're out and about, all you need to do is to load the coil with a small portion of your wax concentrates and you'd be good to go. Otherwise, if you're at the comfort of your own home, you can dab straight from your concentrate jar for larger amounts of extracts that rips.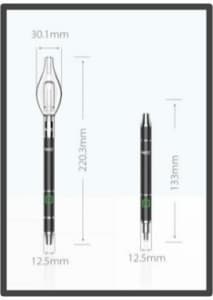 Charging your Yocan Wax Vaporizer Pen
Another feature that makes the Yocan Dive Mini an ideal on-the-go vaporizer is its ability to recharge using a USB charger. Other dab pens will come with a standard 510-threaded wall adapter that requires you to plug it in a wall outlet. Using a USB charger allows you to recharge your battery without reaching out to a wall outlet.
You can recharge your batteries using your desktop computer, your laptop computer, and even using your video game console. This way you don't always have to look for a power outlet when your battery runs out of power and you can be sure that it's always ready to heat your select materials.
Yocan Dive Wax Vape Mouthpiece usage
The mouthpieces used for the Yocan Dive Mini are connected to the battery using magnetic links. This makes removal and replacement of these mouthpieces quick and easy when vaping on-the-go. No need to worry about threaded connections, these mouthpieces snap off and back into place without requiring too much work and operation.
If you want a compact device you can take with you almost anywhere you go then make sure to get the Yocan Dive Mini – a vaporizer that shows size does not matter.
Other Yocan Vapes
About our Cheap Vaporizer Company.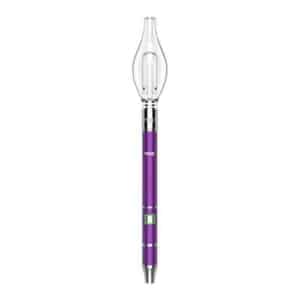 Cheap Vaporizer is a family-owned and operated business that is focused on providing vaping enthusiasts with premium vaporizers. We are proud to sell the best vaporizers on the market today at an affordable price.
Buy with confidence that your vaporizer will arrive by priority shipping via UPS or FedEx in a well-packaged shipment. We ship year-round to all states in the USA.  Shop with confidence that your product will ship fast, and be packaged well from the top vaporizer company in the entire country.