Description
Kandy pens Slim Vaporizer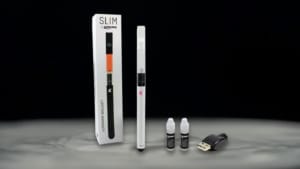 Kandy Pens Slim Vape
Introducing the Kandypens Slim Oil Vaporizer: If you're looking for a quick, discreet, and affordable way to enjoy your favorite oils (CBD, CO2, etc.), then look no further than the KandyPens Slim. With its easy-fill tank design and button-less operation, the Slim is a simple and effective way to vape on-the-go. The Slim utilizes a universal 510 threaded battery for enhanced compatibility, and also includes an industry-leading Lifetime Warranty.  One of the sleekest of all oil vape pens, the slim is what discreet is all about.
Kandy Pen Vape
ABOUT THE KANDYPENS SLIM
KandyPens Slim Vaporizer is an super small and powerful oil vaporizer pen that offers stealthy fluid focus vaping in a hurry. A refillable oil cartridge vape, the slim can be loaded with your favorite liquids, while all-inclusive 510-thread guarantees similarity with most standard cartridges. Also, two included utensil bottles make loading perfect and simple. As well as air-activated 180mAh battery conveys on-request hits. Especially lifetime guarantee remains a demonstration of Slim's vaping quality. Classic, thin, and dependable, the KandyPens Slim vaporizer for sale fits directly into your vaping profile.
WHAT'S IN THE BOX
1x KandyPens Slim Tank
2x Applicator Bottles
1x KandyPens Slim Battery
1x USB Charger
Kandy Pen Vaporizer Features:
Slim & Portable
Lifetime Manufacturer Warranty
510 Threaded Battery
Advanced Tank Technology
Check out all the KandyPens Vaporizers for sale here at Cheap Vape! We offer a full selection of portable vapes including oil vapes, pen vaporizer products, pocket vaporizers and more.
About our Cheap Vaporizer Company
Cheap Vaporizer is a family-owned and operated business that is focused on providing vaping enthusiasts with premium vaporizers. We are proud to sell the best vaporizers on the market today at an affordable price.
Buy with confidence that your vaporizer will arrive by priority shipping via UPS or FedEx in a well-packaged shipment. We ship year-round to all states in the USA.
Considered one of our top cheap vape pens for sale, we definitely recommend checking this vape out!