Description
YOCAN FLAME MULTI-FUNCTIONAL NECTAR COLLECTOR VAPORIZER
THIS DEVICE WAS INTENDED FOR AROMATHERAPY USE ONLY.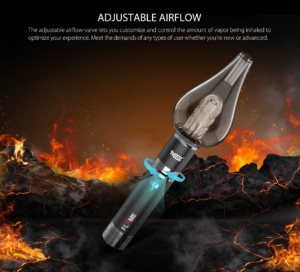 Get ready to be set ablaze! The latest and probably one of the best devices to have come out of Yocan's catalog. The Yocan Flame is a wax concentrate vaporizer that offers some of the best features showcased from its past products which makes the Yocan Flame the culmination of Yocan's past dab pens, wax vaporizers, and portable eRigs.
These features include a powerful 1400mAh battery that gives you lasting sessions. It also boasts compatibility to Yocan's atomizers which makes the Yocan Flame a versatile vaporizer.  This is a smaller alternative to Electric Dab Rigs for sale, and Cheap Dab rigs for sale.
Yocan Flame Vaporizer is multi-functional
Speaking of which, the Yocan Flame is a multi-functional vaporizer for sale and a nectar collector vaporizers that functions as a portable dab pen as well as a portable nectar collector. And although the Yocan Flame offers multi-functional use, switching in between modes is made simple and straightforward thanks to its magnetic connections. There's also the glass mouthpiece that can act as a water bubbler which introduces the element of water filtration and moisture conditioning to your sessions. The Flame has a lot to offer making it one of the brand's most functional and practical vaporizer yet. Interested? Let's get to know the Flame a little bit more.  A true dab pen, also known as a wax vape pen this vape is both classified as a cheap vape and a cheap vape under $100.  Designed by Yocan Vapes, this is one of the nicest wax pen vape for sale on the market.
Yocan Flame Vape for sale NEXT-GEN BATTERY
As we've briefly covered above, the Yocan Flame uses a 1400mAh battery, which makes the Yocan Flame carry the same amount of power as the brand's most powerful dab pen, the Yocan Evolve Plus XL. However, the battery used with the Yocan Flame was engineered to feature next-generation technology as it drops the dated micro-USB charging technology in lieu of the more modern and advanced USB-C charging technology. What that means is that the Yocan Flame's battery not only offers a larger capacity but also fast charging times and more stable power delivery.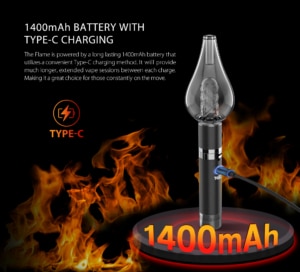 A reliable Dab Pen for sale
This makes the Yocan Flame both reliable and dependable giving you substantial performance in between charges while offering the benefits of juicing up the battery fast and preventing some of the most common issues due to inconsistent power delivery. The battery offers a single heat setting which makes the Flame ideal for both beginners who are intimidated by vaporizers with temperature variability and experienced consumers looking for a wax vaporizer that offers consistent vapor delivery.
The material that houses the Flame's battery is made out of durable metal that offers a combination of glossy and matte finish which makes the Yocan Flame both stealthy and stylish. The Yocan Flame is a vaporizer that combines both form and function into one device that's designed and engineered to blow the competition out of the water.
SUPERIOR VAPOR QUALITY from the Yocan Wax Vape
Intended for both medicating patients and recreational consumers, the Yocan Flame offers clean vapor production suited to help consumers achieve a sense of euphoria and reap the curative benefits of their select wax concentrates. The brand's iconic quartz dual coil offers the production of smooth vapor production with just the right amount of body buzz to keep you functional throughout the day.
Quartz heating rods for the Yocan Flame Wax Vaporizer
Having two quartz rods wrapped in high-quality coils allow it to reach temperature levels that extract both the curative and the subtle psychoactive compounds in your wax concentrates to help you enhance your focus. It also comes with Yocan's latest coil offering the XTAL coils which were designed with purity in mind. These coils are intended to draw out vapors with crystal smooth essences making them ideal for relaxing sessions that induce deep sleep and meditation. Of course, the Flame comes with the big guns just in case you need the cavalry.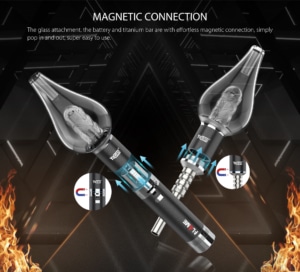 The Yocan Flame 's inclusive titanium bar allowing you to use the Yocan Flame as a traditional nectar collector allowing you to get past the limitations of a conventional wax atomizer and lets you dab straight from your wax jar.
Premium Dab pen atomizer
All of these premium atomizers can be paired with the device's glass mouthpiece that's capable of holding water and act as a glass bubbler. This way, whatever type of heating element you use for what kind of dabbing purpose, you would still have the elements of water filtration and moisture conditioning behind you.
Real Glass on this wax vape pen
The glass attachment holds a reasonable amount of water that can help filter your vapors of irritants and some impurities so you get to inhale clean vapors. Furthermore, the Yocan Flame's glass attachment can smoothen and cool down the vapor using the water in the glass mouthpiece which further improves your experience. You also get to regulate and calibrate the the Flame's airflow allowing you to increase your vapor's flavor and potency by decrease the amount of air you let in or vice versa. The Flame is definitely geared towards giving you the best vaping experience whether you plan to use it at home or on-the-go.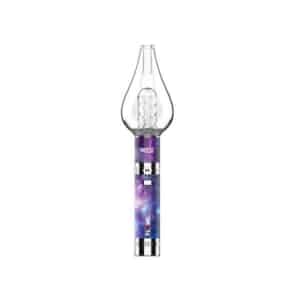 Yocan Dab Pen is BUILT FOR CONVENIENCE
And while the Yocan Flame offers a suite of features that allow it to yield impeccable vapor production, it also cares about your overall experience by making sure these features are coupled with relative components that allow you to enjoy some level of convenience. One of which is the magnetic connections build around the Yocan Flame which makes transitioning from one mode to another as smooth and as seamless as possible. It also helps improve your capacity to maintain the Yocan Flame as threaded connections tend to catch resinous buildup through the small cracks and crevices of the threaded links.
Yocan Dab Pen with Magnetic connection
With smooth magnetic connections, there's nowhere for leftover wax to get into and you can just as easily wipe them away. Another feature is the integrated wax container found at the bottom of the battery so you no longer have to carry a separate wax jar should you like to take your sessions with you when you're out and about. Like any of the connections in the Yocan Flame, the integrated wax compartment connects to the base of the Yocan Flame magnetically. This way you can attach and detach the Yocan Flame depending on when you need it or not.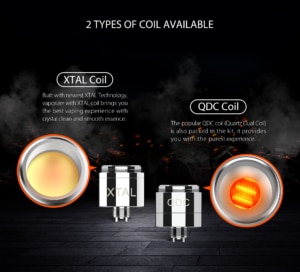 Overall, the Yocan Flame is a device that combines all the best features of its predecessors and offers it in a small and compact wax vaporizer that functions and performs better than devices twice its price. Make sure to get your hands on the Yocan Flame now!
YOCAN FLAME MULTI-FUNCTIONAL NECTAR COLLECTOR VAPORIZER FAQS
What is the specification of its battery?
The Yocan Flame uses a 1400mAh USB-C battery.
What type of coil does the Yocan Flame have?
The Flame uses the Quartz Dual Coils (QDC), XTAL Coil, and a Titanium Bar.
Yes. The Flame is 510-threaded.
Does it have temperature control?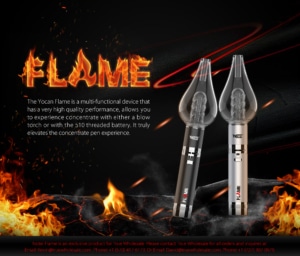 No. It only has one heat setting.
Other Yocan Vaporizer products
About our Cheap Vaporizer Company.
Cheap Vaporizer is a family-owned and operated business that is focused on providing vaping enthusiasts with premium vaporizers. We are proud to sell the best vaporizers on the market today at an affordable price.
Buy with confidence that your vaporizer for sale will arrive by priority shipping via UPS or FedEx in a well-packaged shipment. We ship year-round to all states in the USA.  Shop with confidence that your product will ship fast, and be packaged well from the top vape shop online in the entire country.