Looking for a new dry herb vaporizer for sale?
Your search for the best dry herb vaporizer is over! Cheapvaporizer.com has one of the largest selections of dry herb vaporizers online. It can be a challenge to find the right dry herb vaporizer. CheapVaporizer.com has many affordable dry herb vaporizers available that can ensure a premium session every single time. All dry herb vapes are shipped priority via UPS or FedEx. Cheapvaporizer.com is a family-run company that is focused on providing enthusiasts with premium vaporizers.
Cheapvaporizer.com offers over 20 different types of dry herb vaporizers available for purchase. Dry herb vapes offer convenience and portability that desktop vaporizers do not. With so much on the market today it can be hard to narrow down what product will fit your needs. Here are our top 5 top-selling dry herb vaporizers.
G Pen Elite Portable Dry Vaporizer by Grenco Science
The G Pen elite Dry Herb Vaporizer has of the largest herb chambers on the market, it's no wonder why this vaporizer is as popular as it is. This model is smaller and more advanced than its predecessor. It comes with a single power button and a micro USB port for charging. The sleek design rests well in your hand since it does not have much weight to it. The silicone cover on the mouthpiece feels nice and creates extra airflow for the vapor to come through. The chamber is huge and when it heats up there are four air intakes holes on the bottom that create a good amount of air that can pass through. It heats up in about 30 seconds and creates strong hits and impressive tasty vapors. You can really get tasty vapors using the lower heat settings. It's understandable why this is a top choice for vaporizer connoisseurs.
DaVinci IQ2 Dual Use Portable Vaporizer by DaVinci Vaporizers
For vape enthusiasts that are looking for one of the best portable dry herb vaporizers, the IQ2 offers one of the best bangs for your buck. It is considered a dual-use vaporizer since you can use concentrates but most primarily use it for dry herb which is why it made the list. We were really impressed by the flexibility and customization options on this device. It's nice to be able to adjust your airflow to tweak the device to create the perfect tasting flavor. The ceramic chamber is easy to lead and comes with a temperature control system. The sleek aluminum casing helps protect the vape from any damage especially if you drop it by accident. It is a very discreet vape that can produce long-lasting sessions each and every time.
Wulf Vape Classic by Wulf Mods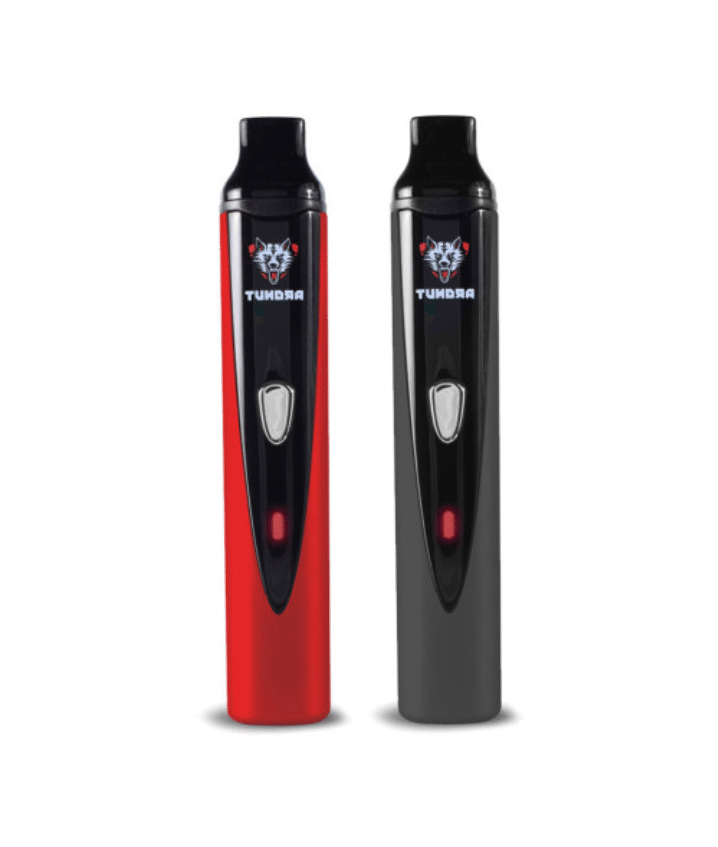 The Wulf Vape Classic Dry Herb Vaporizer By Wulf Mods an everyday type of vaporizer. It's a classic and simplicity makes this one of the most popular affordable dry herb vaporizers on the market. It's very easy to operate and removes some of the bells and whistles that its competitors offer. It's relatively inexpensive and reliable which translates into tasty sessions each and every time. It tends to produce dense puffs and solid vapors. If you are looking for a low-cost portable dry herb vaporizer this one is a bargain. They do make a digital option but the classic continues to be one of the best choices available.
Mighty Portable Vaporizer by Storz & Bickel
From the same makers of the Volcano comes the Mighty portable vaporizer. This unique popular device creates tasty high-quality vapors that you can expect from this manufacturer. It comes with 8 convection heating jets and a boost mode for quick temperature jumps. That feature is great and cuts the time to bring it to the desired temperature. The conductive loading chamber has no draw restrictions allowing for optimal usage. It does not need to be stirred during sessions which we found to be incredibly useful. The vapor was smooth even at higher temperatures. Turning it on and off was very simple. It has the same reliability as the Volcano and it is no wonder why it's one of the best selling vaporizers. Truly a great dry herb vaporizer for sale online!
About CheapVaporizer.com
CheapVaporizer.com is a family-owned and operated business that is focused on providing vaping enthusiasts with premium vaporizers. We are proud to sell the best vaporizers on the market today at an affordable price.
Buy with confidence that your vaporizer will arrive by priority shipping via UPS or FedEx in a well-packaged shipment. We ship year-round to all states in the USA. If you have any questions or concern about your purchase or shipment please email support@cheapvaporizer.com
https://www.cheapvaporizer.com/wp-content/uploads/2020/11/mighty-set.jpg
590
500
cheapvape
https://www.cheapvaporizer.com/wp-content/uploads/2020/10/cheap-vaporizer-best-vaporizers-for-sale.png
cheapvape
2020-11-10 19:13:55
2020-11-10 19:14:57
Affordable Dry Herb Portable Vaporizers for sale online