Description
Welcome to The Sutra Squeeze!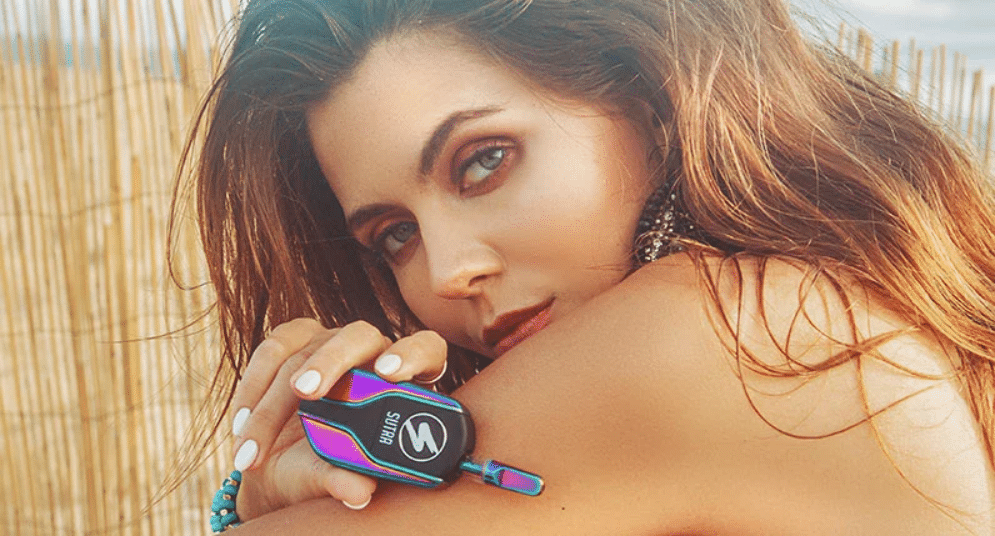 Get to Know Your Vape
The Sutra Squeeze by Sutra Vape is a remarkable device made to ensure astounding sessions for an overall elevated and amazing experience. At just 77mm by 19.5mm, it is ergonomically designed to fit comfortably, following the curvature of your hand as your travel on the go. It is powered by a 500mAh battery, employs a 15W, a resistance of 0.5ohm to 2.0ohm, a 11.7mm cartridge hold size that is compatible with a plethora of tanks on the market and magnetic connectors for extra security. The Sutra Squeeze also integrates four voltage settings with matching bright LED lights that indicates which level the device is on; the green light is 2.8V, the blue light is 3.2V, the teal light is 3.7V and red is 4.2V. It also features an auto shut off time of 15 mins for safety, magnetic threaded adapters to keep your cartridges and tanks in place, and visually stunning attributes like vibration alerts as visual feedback. It doesn't stop there; this device includes a preheat function and with two rapid clicks of the power button it is activated. It is turned on and off with five raid clicks of the power button. Please note, you have to click the power button quickly or the device will not register the action.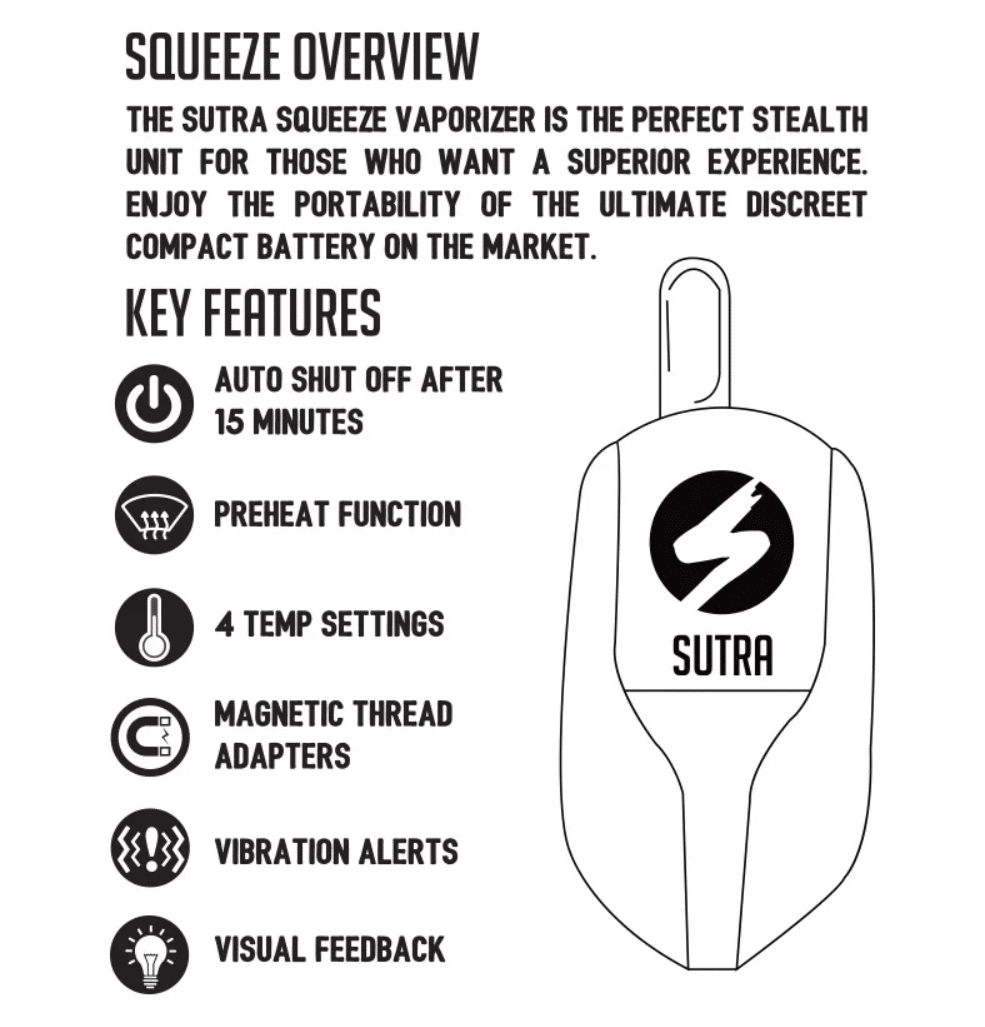 Loading the Cartridge
Enjoy your goodies
Loading your cartridge is very easy. First you will start by removing the mouthpiece from the cartridge. Load your cartridge with the desired oil of your choice. It is a good idea to fill your cartridge about halfway as you don't want to overfill because this can cause leaking or clogging. Attach a compatible magnetic adapter to the cartridge and twist the mouthpiece back on. Place the glass cartridge back into the chamber. When connected the unit will vibrate, letting you know it is ready for use.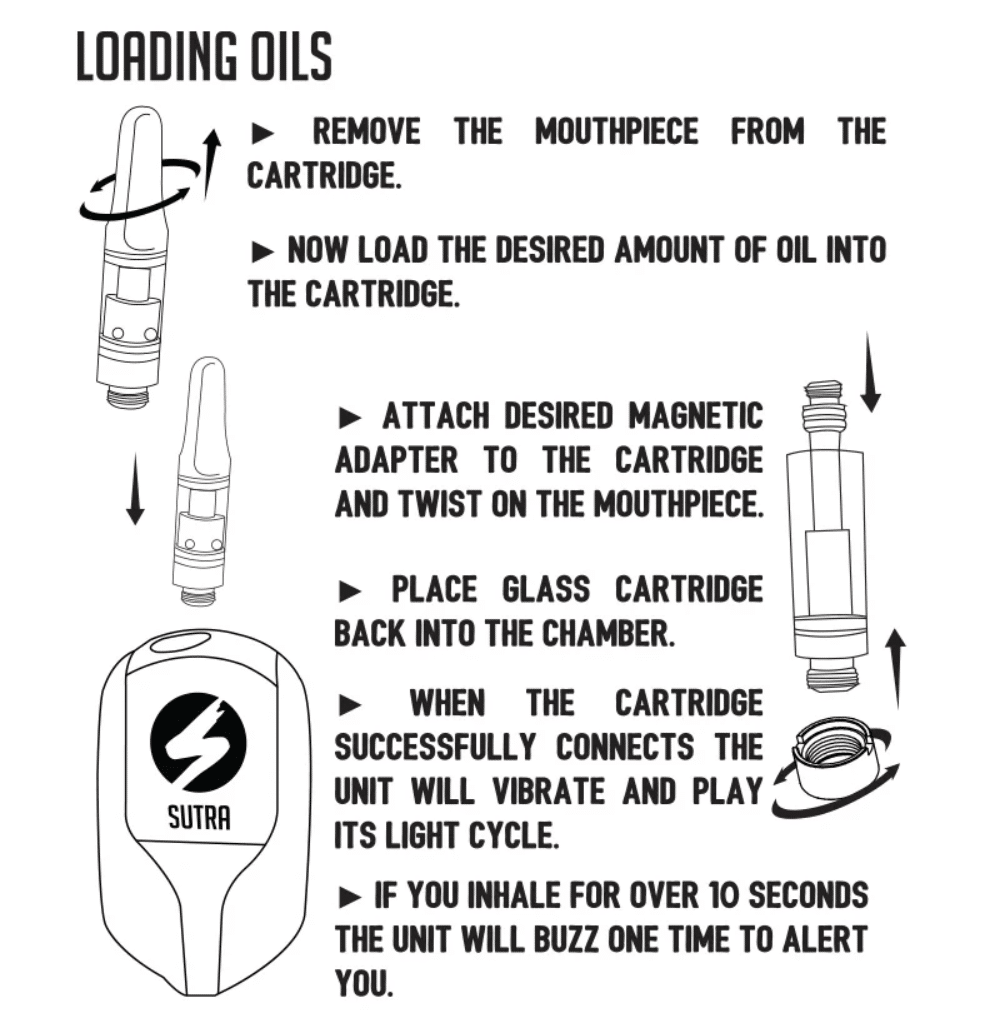 WARNING: Do not charge with a powerbank of 5V or higher. Do not charge in your car. Do not overcharge or use any other charging cable other than what comes with your battery. Failure to follow these instructions could result in battery damage and frying of the internal system.